Revolutionize the Commute: Electric Bicycle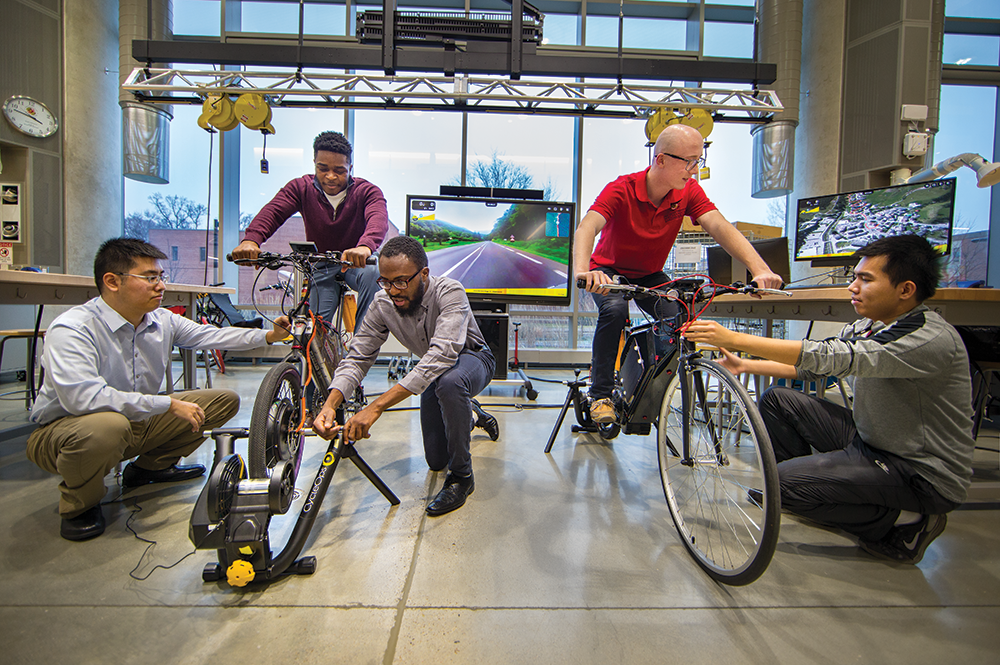 For the past three years, Professor of Electrical and Computer Engineering Romel Gomez has challenged students to push the laws of physics and the limits of technology in his electric bicycle capstone course, where students have developed everything from a solar recumbent bike to an e-mountain bike capable of climbing the stairs of Maryland's Xfinity Center. So when the Mpact Challenge was announced two years ago, he saw it as an opportunity to build on the creativity he was seeing in class through a real-world competition.
The challenge was straightforward and ambitious: build an electric-powered bike, no more than 30 kilograms in weight, that can travel 125 miles on a single charge. The bike would be put through its paces for 100 miles on a sophisticated indoor trainer able to mimic real-world conditions like elevation, rider weight, and wind shear, with the remaining 25 miles on a designated campus route where riders were required to obey traffic rules, including the 10 stop signs along the course. Everything else—from style to mechanics—was left to the students.
"One hundred and twenty-five miles on a single charge had never been done before," says Gomez. "It is almost at the theoretical limit. Quite frankly, I didn't know if it was possible to do."
The competition initially attracted 30 teams, with 12 receiving Mpact Challenge funding. One of those teams—and the one to clinch first place—was co-led by a master technician of BMWs, Bryan Jensen, who returned to school after 11 years in the automobile industry to pursue his undergraduate degree in mechanical engineering. The irony that a master mechanic won first prize for designing an electric bicycle was not lost on Jensen, but neither were the chances of winning; with all seven finalists completing the 125-mile challenge and with less than three minutes between the first- and second-place teams, it was an unbelievably close race.
"It could have been any one of us who got first," he says.
What might have given them the edge, according to Gomez, was the bike's level of optimization and an off-the-shelf battery that can be recharged by the rider.
"One hundred and twenty-five miles on a single charge had never been done before."
While an initial idea to use a dual input system, similar to what's found on a Prius, was scrapped when the team couldn't get the components small enough for a bike, it inspired an easier and more scalable technology that could potentially be mass-manufactured. The team's bike can travel up to 30 miles per hour and close to 160 miles on a single charge. Jensen estimates that, while they were road tested on a touring bike, the battery and motor could be interchangeable on any style of bike.
Aside from the first-place prize money, the challenge put purpose behind aspects of Jensen's education that, until then, were more theoretical. "For someone who spent a career learning with his hands, the e-bike experience helped solidify so many aspects of my education," he says. "The entire experience taught me to stay adaptable. Keeping your eye on the goal, rather than how you intend to accomplish it, was probably the biggest lesson I learned."
"I really want to create the excitement of engineering design in the real world," says Gomez. "That was the motivation: to bring out the students' creativity on something that is so practical, so useful.
"And I was not disappointed."
Read more about the Mpact Challenge projects.

Watch to learn more about the e-bike competition:
Published March 15, 2020