OUR LOCATION:
2105 J.M. Patterson Building
4356 Stadium Drive
University of Maryland
College Park, MD 20742
View Larger Map
GET IN TOUCH:
Phone: (301) 405-0362
On-Campus: (x5-0362)
Fax: (301) 405-3305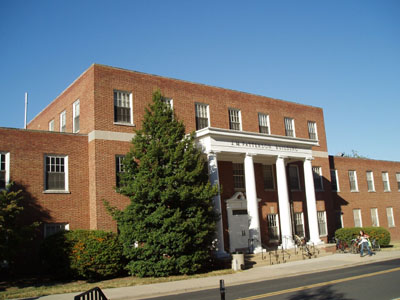 Directions
Take exit 25B (Route 1 South, College Park exit) from the Beltway. (If coming from Baltimore on I-95, take exit 27, Route 1 South, College Park exit).
Stay in the right lane on the exit ramp. Go 2 miles on Route 1 and turn RIGHT on Campus Drive (the Main University Entrance).
You will see a "YIELD" sign immediately. Turn right at the yield sign onto Paint Branch Drive. Follow Paint Branch Drive to Stadium Drive.
Turn left on to Stadium Drive and follow to the Regents Parking Garage at the corner of Regents Drive and Stadium Drive. Visitor parking is located at the top level of the garage.
The J.M. Patterson building is located on the Northeast corner at the intersection of Regents and Stadium Drive.
Our offices are on the 2nd floor, to the right of the main entrance or to left of the white column entrance.
Top