Engineering a Testudo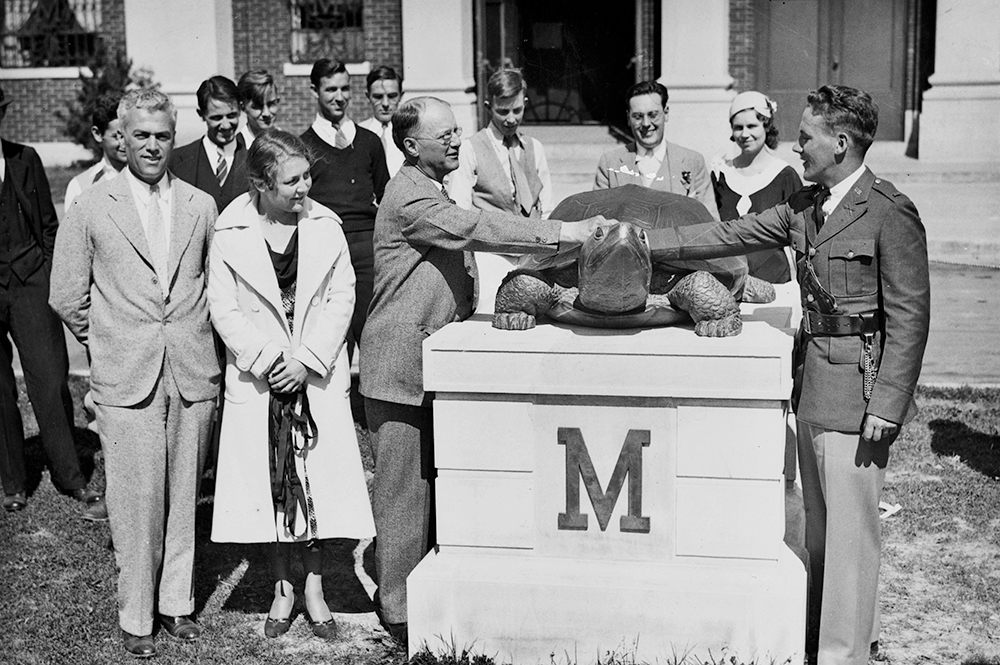 The University of Maryland's A. James Clark School of Engineering is proud to celebrate its 125th anniversary in 2019 and an enduring tradition of research, learning, and innovation. The College of Engineering joined what was then known as the Maryland Agricultural College in 1894. As we prepare to celebrate 125 years of daring vision and lasting impact, we're uncovering the rich history of the Clark School.
Take a look at what we've discovered so far!
Testudo became the official mascot of the University of Maryland in 1932, and engineering students played a critical role in shaping the prominence of Testudo on campus.
UMD's class of 1933 donated a bronze statue of Testudo to the university as a class gift. The Student Government Association, with the help of senior class president and engineering student George Weber ('33, civil engineering), was instrumental in raising money for the statue and its pedestal. Edwin Mayo ('04, mechanical engineering), then-president of the Gorham Manufacturing Company, produced the 300-pound statue for the university.
Originally standing outside Ritchie Coliseum, Testudo was involved in a few collegiate pranks and thefts over the years and eventually ended up in a shed. In 1951 Weber, by then director of the University Physical Plant, decided to reinstate the statue, filling it with 700 pounds of cement and anchoring it outside of what is now known as Maryland Stadium. When McKeldin Library opened in the 1960s, the statue was moved to its current place on McKeldin Mall.
Today, many engineering students participate in the tradition of rubbing Testudo's nose before an exam to bring good luck, all thanks to the instrumental role two engineering students played in bringing Testudo to campus.
Visit clark125.umd.edu to learn more about the Clark School's quasquicentennial!
Published April 1, 2019