Break Records: The "Flying Carpet"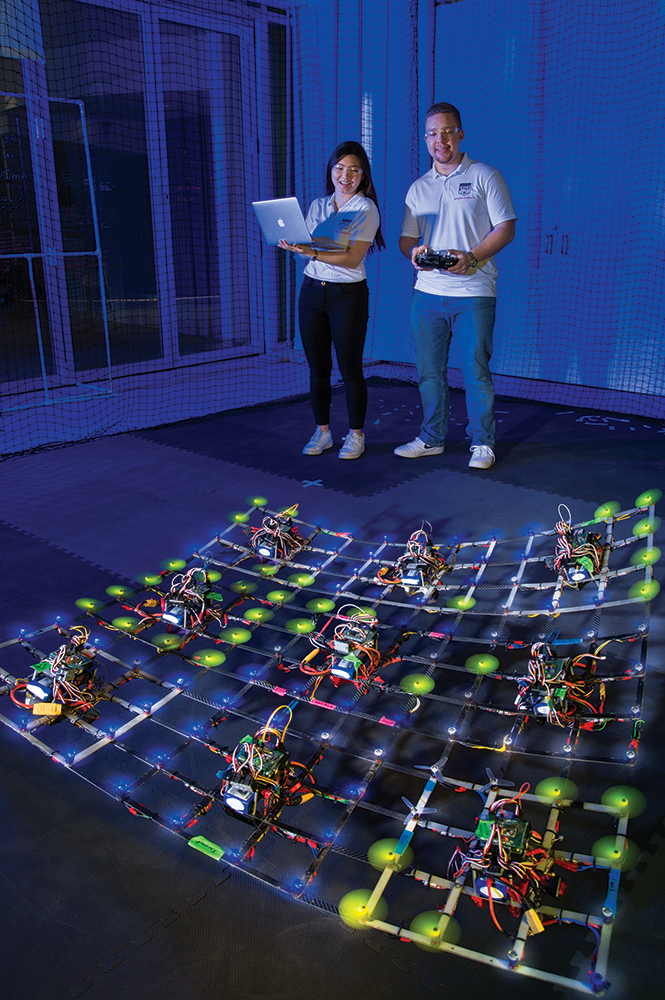 Of all the projects funded by the Mpact Challenge, one in particular is for the books. Deep in the labyrinth of the Engineering Laboratory Building, eight students have spent the past two years hatching a modular, flexible drone—a two-dimensional flying surface composed of over 100 palm-sized individual motors, with the ability to configure into any shape and size. Called the "flying carpet" for the way it skims through the air, it's an incredible feat of engineering with very promising applications, catching the attention of Guinness World Records last fall. An official flight attempt is planned for this year.
The flying carpet is the epitome of what the Mpact Challenge hoped to inspire: that when given the resources and room for unrestricted creativity, students and faculty can develop a radical idea. This is how the flying carpet began: as a concept proposed by UMD alumnus and aviation pioneer Ashish Bagai ('90, M.S. '92, Ph.D. '95).
"We started from absolute scratch," says Adam Orkin ('19), who continues to work on the project following his graduation this past winter. "We were basically just given a few words and pictures by Dr. Bagai: build a modular, flexible, reconfigurable, 2D flying surface. We had a lot of freedom."
Central to the carpet is a patent-pending flight controller that works almost like a hive mind; along with individual sensors, it helps each motor work both independently and as one. The Lego-like design makes the carpet incredibly flexible, allowing it to perform beautifully in windy conditions and travel over uneven surfaces, such as choppy water. The carpet employs tilt rotors to maneuver forward without pitching, unlike a traditionally stiff drone. Its sheer volume of independent motors means that if one dies—or even if multiple fail—it won't come crashing to the ground. Its shape, stability, and versatility lend itself to a number of applications, including sensitive payloads, surveillance, mapping, even entertainment (think the Maryland flag in lights at the next basketball game).
The flying carpet is the only Mpact Challenge project run entirely by students. By design and necessity, the team is trim—a mix of aerospace, mechanical, and computer engineering students who rotate between project management, research, design/build, testing, and analysis. According to team member Emily Sun, the project gave them a truly unique academic experience.
"This program was set up to amplify what the students can do. And they've done great."
"I definitely wouldn't have gotten this experience in any of my classes or a lab," Sun says. "As a mechanical engineering major, I was afraid I wouldn't get any exposure to aero-type concepts. But this project really allowed me to explore that area of interest."
"I think they've learned a lot about managing a project and organization, the soft skills that engineers often don't get to experience," says the project's faculty advisor and Senior Lecturer Andrew Becnel (M.S. '11, Ph.D. '14). "This program was set up to amplify what the students can do. And they've done great."
While the Guinness nod is an exemplary footnote to this Mpact project, Orkin hopes that the story of the flying carpet is just getting started. More modeling is underway so that the team can better understand how the carpet behaves and advance its controls. They are also exploring a number of options to continue the carpet's development, including a club, a research lab, even a competition.
"We have a lot of momentum," says Orkin. "One of the biggest pluses of this project is we've had almost complete freedom, which is really unlike a lot of opportunities that students have. We created our own agenda and our own plans."
"This project relied on all of the students to go way beyond what their courses would require them to do," Becnel says. "It was a real engineering experience, which is what we want to provide for everybody."
Read more about the Mpact Challenge projects.

Published March 15, 2020