The Epic World of Tim Sweeney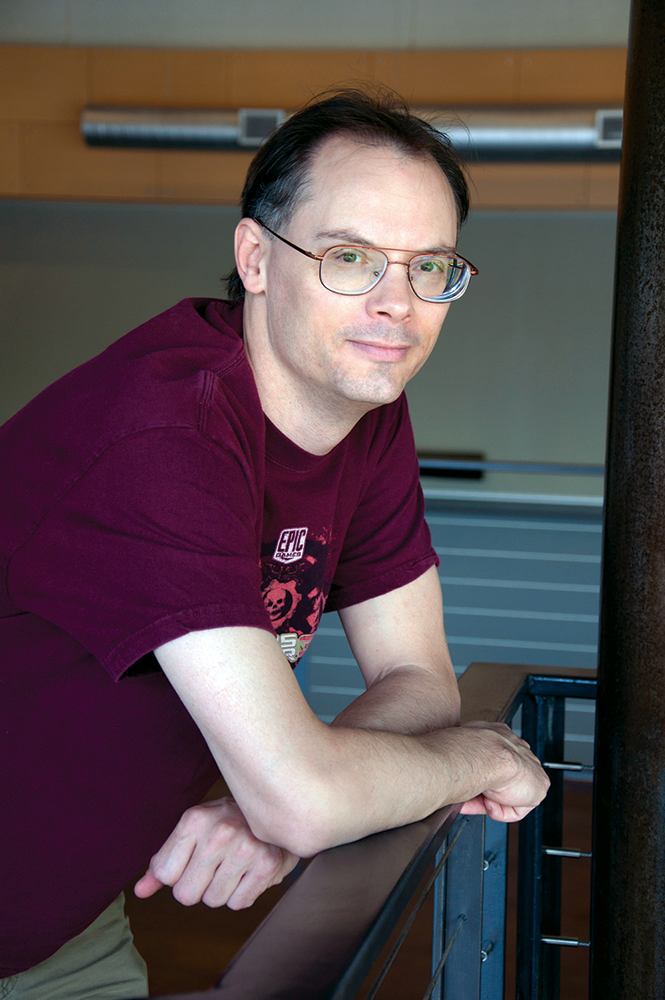 Tim Sweeney ('93, mechanical engineering) is in to free stuff—not getting it, but giving it.
There was the first episode of his breakout game, ZZT, which he released for free at the age of 20 after eight years of hobbyist programming on nights and weekends. There's the Unreal Engine, a comprehensive suite of creation tools for game designers that is open sourced through his multi-million-dollar company, Epic Games, to more than seven million developers and counting. And, of course, there's the F-word: Fortnite, Epic's monstrously popular video game, where players come together as a digital community to battle for survival—and occasionally dance. It's also free on virtually every gaming platform.
For Sweeney, it's not about the money; it's about building a community. So far, he's been very successful. He maintains a "meritocracy" at Epic, a model he picked up from a chance encounter at Microsoft, to foster good ideas and teamwork. Over 250 million people around the world play Fortnite, connecting virtually to spar and, as of last December, build in Fortnite's new Creative Mode. Epic reached an agreement with Nintendo and Microsoft in June of 2018 for cross-play of Fortnite, getting Sony on board later that year. Sweeney has more than 52,000 dedicated (and vocal) Twitter followers. And through Epic Games, he's not only building the new frontier of gaming with an incredibly talented team in Raleigh, North Carolina, he's shoring it up through a massive grant program that funds fledgling projects.
"The grant funding has really helped some indie developers get off the ground," says Sweeney, who points to Astroneer and Claybook as examples of successful projects that have benefited from Epic grants.
Born and raised in Potomac, Maryland, Sweeney taught himself how to program through online bulletin boards and a lot of experimentation, first on an Apple II and later on a PC. After finding success with ZZT, he realized he might be able to make a living at it.
It was during his time at the University of Maryland's A. James Clark School of Engineering, where he studied mechanical engineering, that he launched Epic MegaGames (shortened in 1999 to Epic Games), a name he came up with to compete with '90s heavy hitters like Apogee software. "[It was] kind of a scam to make it look like we were a big company," he told Gamasutra in 2009. "Of course, it was just one guy working from his parents' house."
While some may see Sweeney's trajectory as light years away from his mechanical engineering education, his time at UMD gave him tools he didn't realize he needed until Epic was off the ground. "I learned to program on my own, but never could have learned such a breadth of mathematics and rigorous analysis without studying engineering," he says. "It was an interesting experience, because during my studies I really didn't understand why I was learning vector calculus and these other esoteric things. But when I started to write 3D rendering code, it turned out to be the secret sauce."
An interest in hiking led Sweeney to his latest project. For the past decade he's been quietly buying up swaths of forest at risk for development in his new home of North Carolina. So far, he's salvaged 50,000 acres. "Land conservation is the one unquestionably practical and cost-effective thing we can do to protect ecology and the future habitability of the planet. You can spend $100 on land conservation and less than $5 of it is lost to overhead."
Back at Epic, exciting developments emerged this past spring on the show circuit, such as advanced video game physics to better portray collisions and explosions, which Sweeney hints is just the beginning. "Raytracing and physics will continue to bridge the gap to photorealism," he explains. "The shortcomings now are in the networking layer, enabling hundreds of players (or more) to experience these richer worlds together."
Without a doubt, his people at Epic are working hard at it; after all, their community is waiting.
Tim Sweeney on …
An unintentional outcome of Fortnite: "Twenty-eight years ago, Epic set out to accomplish many things, and we've achieved some of them. I have to admit, though: popularizing dancing among kids came as a complete surprise and wasn't an actual goal."
Inspiring good ideas: "In 1995 I was invited to show Unreal to Microsoft's graphics team. I arrived and found myself demoing to Bill Gates along with the Windows graphics engineering team and Microsoft Research luminaries. After I presented Unreal, they launched into a vigorous debate about Microsoft's graphics strategy; they were so into it that they didn't think to kick me out of the room. In that hour, I saw a small team of very young engineers slowly prevail in the argument against the much more senior researchers, many of whom were the founders of modern computer graphics. It struck me as an exactly the kind of meritocracy a company should strive to be, where the best ideas win, and not rhetoric or politics or resumes. I've always strived to maintain that ethic at Epic Games."
Published September 9, 2019