Meet Captain Juliana M. Strieter: The Pioneering Naval Engineer Breaking Barriers in the US Navy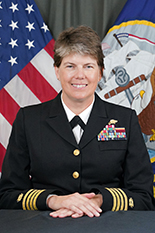 Captain Juliana M. Strieter, executive officer, Naval Facilities Engineering Systems Command (NAVFAC) Washington, is a true inspiration, breaking barriers and serving with distinction in the United States Navy. She hails from Lake Linden, Michigan, and enlisted in the Navy in December 1995. During her time at the Nuclear Field Electronic Technician A-School, she completed her degree and graduated from Michigan Technological University in 1996 with a Bachelor of Science in Civil Engineering.
Captain Strieter was selected for Officer Candidate School (OCS) in the Civil Engineer Corps Community, where she was commissioned as an Ensign in July 2000. Her dedication and passion for serving her country are evident from her long list of commendations and achievements. In May 2009, she received a Master of Engineering (M.Eng.) in Project Management from Maryland Applied Graduate Engineering in the A. James Clark School of Engineering at the University of Maryland, which helped further her career in the US Navy.
On September 1, 2022, Captain Strieter was promoted to the rank of captain at a ceremony held at the Lincoln Memorial in Washington D.C. She is assigned to Naval Facilities Engineering Systems Command, Washington where she serves as the Executive Officer.
When Captain Strieter joined the US Navy in 1995, there were not many women within the Nuclear Field. "I think we only had about a dozen (or so) women in the Reactor Department on the USS Eisenhower," she says. "The Civil Engineer Corps, similar to the Engineering Community, is predominately male. Females make up 14% of our Corps. So many times, I was the only female on the team/meeting."
Due to her height, 6'1", she believes her presence alone helped her stand out even while serving as a woman in a male-dominated field. She also attributed her focus on relationship-building as a factor that strengthened her work connections and personal growth. "Our division worked well as a team, so it didn't matter what gender you were as long as you did your job to the best of your ability," she says.
"The Civil Engineer Corps, similar to the Engineering Community, is predominately male. Females make up 14% of our Corps. So many times, I was the only female on the team/meeting."
Despite facing unique challenges as a female service member in a predominantly male field, Captain Strieter has never let these obstacles hold her back. Instead, she has approached every challenge as an opportunity to grow and to push herself to new heights of achievement. Her motto, "Why not?" has served her well throughout her career, inspiring her to pursue new challenges and to push the boundaries of what is possible.
After a successful tour as a Construction Manager at Norfolk Naval Station in the mid-2000's, Captain Strieter was inspired to pursue a masters degree in project management. "When researching master degree programs at Maryland, this program was the right fit for me; I knew this degree would help my career in the US Navy," she says. "I liked the focus on working professionals."
Captain Stieter's M.Eng. in project management from Maryland Applied Graduate Engineering has equipped her with the practical skills needed to manage projects and teams, "being able to relate everyone's actions to the final product and the future mission support to the Navy," she says.
Captain Strieter continues to grow through her work in the Navy by seeking out new challenges and embracing the continuous change that goes hand-in-hand with her work. "I had a chance to live overseas in two very different countries– Romania and Bahrain–had a chance to work within a different section of the government–State Department. Overall, I have loved my career and the ability to defend my country. It's 'not what the country can do for you, but what you can do for the country.'"
Among her many accomplishments, Captain Strieter has been awarded two Meritorious Service Medals, seven Navy Commendation Medals, a Navy and Marine Corps Achievement Medal, and a Good Conduct Medal, among other honors. She led 117 Seabees, 70 of them taking her to 40 different countries. She is also a qualified Seabee Combat Warfare Officer, a Professional Engineer in the Commonwealth of Virginia, and a member of the Acquisition Professional Community.
Beyond her professional life, Captain Strieter enjoys spending time with her wife and three cats. She loves everything outdoors, from cycling, running, and camping to photography. Looking forward, she hopes to get stationed overseas for her next tour and retire in about 3-5 years. Her personal goals are to travel and see more of the world.
Published February 28, 2023