Putting Transfer Students in the Spotlight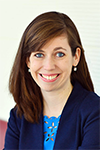 Shannon Hayes Buenaflor, program director of Transfer Student Advising & Admissions in the Clark School's Office of Undergraduate Advising and Academic Support, isn't a transfer student.
"I'm the polar opposite: all three of my degrees are from UMD," she says. But her early professional experiences with transfer students led her to become their advocate.
"I really started engaging with transfer students when I worked at [the University of Maryland's] College of Education and saw the challenges they faced. Higher education is full of terms and lingo, for example, especially when a student is coming into it. Someone needs to demystify the process and advocate for those transfer students." A critical advocate and essential resource for students interested in transferring into Maryland Engineering, Buenaflor works to ensure transfer students are supported and know they are valued by the college.
The National Institute for the Study of Transfer Students (NISTS), the leading national organization for the advancement of transfer students and programs, agreed—and awarded Alberto Carrera, UMD professor emeritus of higher education, and Buenaflor a competitive grant to continue their work.
Entitled "Transfer Efficacy and Goal Orientation Among Potential Transfer Students: An Exploratory Study," the award will help field test a survey to better understand the relationship between transfer efficacy and goal orientation. Findings from this study will have direct benefits to both students and practitioners "by highlighting students' intent to transfer as well as the various factors contributing to transfer student self-efficacy," according to the award language. "My goal is a one-stop shop for transfer students, especially veterans," Buenaflor says.
This is Buenaflor's second major award regarding transfer student work. In 2021, NISTS named her a Transfer Champion—Rising Star Award Winner. She is a collaborator on NSF-funded research on the experiences of Black engineering transfer students.
Published March 7, 2022