A Peak of Pickle Players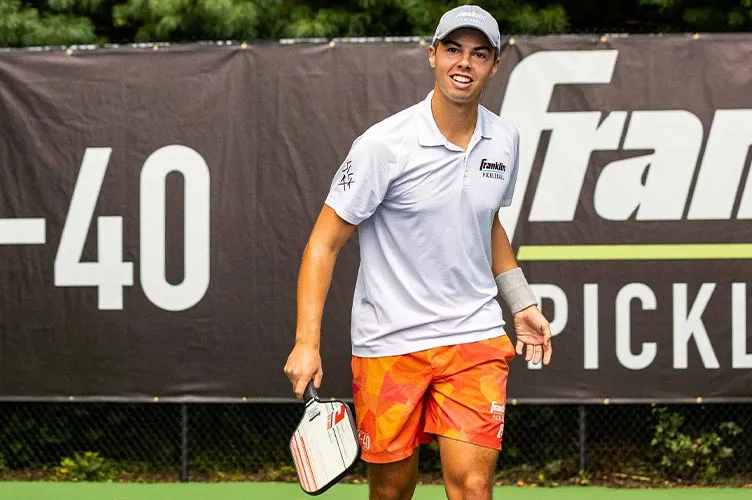 A set or two of paddles, a net, a ball, and somehow zero fermented cucumbers: It's a recipe for a sport that's becoming a real big dill … er, deal, and a Maryland engineer has made the game his bread and butter.
The sport is pickleball—a combination of pingpong, tennis, and badminton—and Ben Johns '22, a materials science and engineering student, is the world's No. 1 player. As more people come to relish the sport—it grew 21.3% in the U.S. from 2019-20, to 4.2 million players—Johns has championed the game through high-profile victories, a professional equipment sponsorship, and even a vacation company that teaches pickleball around the world.
"It's just a sport for absolutely everybody," Johns says. "I've never seen a sport where people come back for coaching and instruction over and over like this one, just because they kind of get addicted to that feeling of improvement. It's a real phenomenon, because you really can get a lot better very quickly."
Pickleball, played in singles or doubles matches, involves hitting a plastic whiffle ball-style ball over a net with a paddle on a badminton-sized court. Certain rules make it more of a finesse than a power sport, Johns says, like bans on serving overhand and a no-volley zone, commonly referred to as "the kitchen," around the net.
(Oh, and about that odd name: Multiple origin stories claim to explain it, some claiming the moniker comes from the game founder's dog, Pickles, while others think it comes from the term "pickle boat," which carries a mismatched crew of spare rowers left over from other boats—just as pickleball adopts stray elements of other racket sports.)
Johns, who played tennis for about a decade growing up, first tried pickleball in 2016. He entered its debut U.S. Open that year on a whim—and placed fifth. Since then, he's shot up the leaderboards, dominating the pack in singles, doubles, and mixed doubles and earning around 90 gold medals. That success landed him a partnership with Franklin Sports, with Johns tapping into his engineering studies to help design his own bestselling paddle.
While COVID-19 paused tournaments, banned crowds, and canceled trips for Pickleball Getaways, the vacation business Johns co-owns, he got creative with his training during quarantine. "It might be not on a real court," he says. "It might be on a park tennis court … anything that wasn't locked up."
Others searching for a new pandemic pastime—from students and parents to actor Jamie Foxx and Seattle Seahawks quarterback Russell Wilson—hopped on the bandwagon, too.
"It's been really cool to see a lot of celebrities and just people in general pick up pickleball over COVID, because it was one of the few things you could do," Johns says. "People just kind of set up a net wherever."
Count UMD among that growing fan base. Since Johns provided equipment and tutorials to introduce pickleball as a "Fun Friday" intramural sport in Fall 2019, it's become a regular league offering. Twenty-four teams registered in the fall—including one called the Ben Johns Fan Club—and University Recreation and Wellness plans to keep it rolling this spring, says Jason Hess, assistant director for intramural sports and Reckord Armory.
"That's in big part thanks to Ben for pushing us to get it started," he says. "It's been a great addition."
Gear Up: Pickleball pro Ben Johns '22 considers the following when choosing a paddle:
DIMENSIONS: Johns plays with a 16.5-by-7.5-inch paddle, in between the standard 16-by-8 doubles and 17-by-7 singles models—a perfect balance for players like him, who compete in both varieties of the sport. The handle he uses measures 5.6 inches, a bit beyond the normal 4.5 to 5. "That gives the paddle more flexibility so when you hit it, it's going to bend slightly more."
WIDTH: Johns again prefers the middle ground, playing with a 16-millimeter paddle that falls within the usual 1/2- to 3/4-inch range. "The thicker you make it, the heavier it's going to be," he says, "but also, the less power you have and the more solidity you have, which just means you get less inconsistent hits."
CORE: Most pickleball paddles, Johns says, use a polypropylene polymer honeycomb core. Polypropylene is a strong, cheap plastic, and the honeycomb shape helps maintain structural integrity. "It's really light, because most of the core is actually air," he says. "But you can still hit the ball hard."
SURFACE: Johns goes with fiberglass. "It's good because it's springy, which gives the ball power," he says, "but it also can be made quite rough, so that imparts spin on the ball."
This story first appeared in TERP magazine.
Published March 3, 2022