Dharmalingam Ganesan is MAGE Outstanding Teaching Award Winner for 2020-2021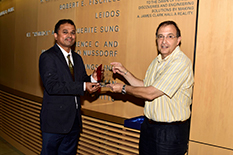 Maryland Applied Graduate Engineering is delighted to announce that Dharmalingam Ganesan is the recipient of the MAGE Outstanding Teaching Award for the Academic Year 2020-2021.
Assistant Dean for Continuing Education George Syrmos presented the award to Ganesan on August 16, 2021 in the lobby of A. James Clark Hall. In recognition of his exceptional teaching, Ganesan also receives a cash prize.
Ganesan has been a lecturer for cybersecurity at MAGE for ten years. He teaches classes on Secure Programming, Secure Software Construction and Testing and Applied Cryptography. "Since our students come from a wide array of educational backgrounds and experiences, we offer practical, hands-on demos of non-trivial theoretical ideas," says Ganesan of his teaching methods.
According to Ganesan, part of advancing students' knowledge in programming and software is teaching them "how to think abstractly."
"For example, non-CS/EE students are often frightened when looking at assembly-level code. We tell them that assembly programming is 'just' a set of instructions to move data from memory to CPU registers, and vice-versa. This kind of approach eases our way to teaching low-level, complex topics," Ganesan says of his teaching style.
Ganesan credits the "technical rigor and theoretical foundation" of his classes for his former students' success in entering the cybersecurity profession as well as being recruited by some of the top companies in the tech field.
Ganesan's rapport with his students shines through in the many glowing course evaluation comments he receives. Writes one student: "The professor is great and takes all the time to make sure each student understands the concepts," and another: "In my personal opinion I feel that this is one of the best courses I have ever taken related to cybersecurity."
Ganesan received his Ph.D. in computer science from the Free University of Amsterdam. Outside of the classroom, Ganesan is responsible for "overseeing and contributing to security assurance, ethical hacking and security architecture of all products in our business unit" as a Senior Security Manager for a top technology company.
Published August 18, 2021