Alum Celebrates 35 Years of Craft Brewing Success in Alaska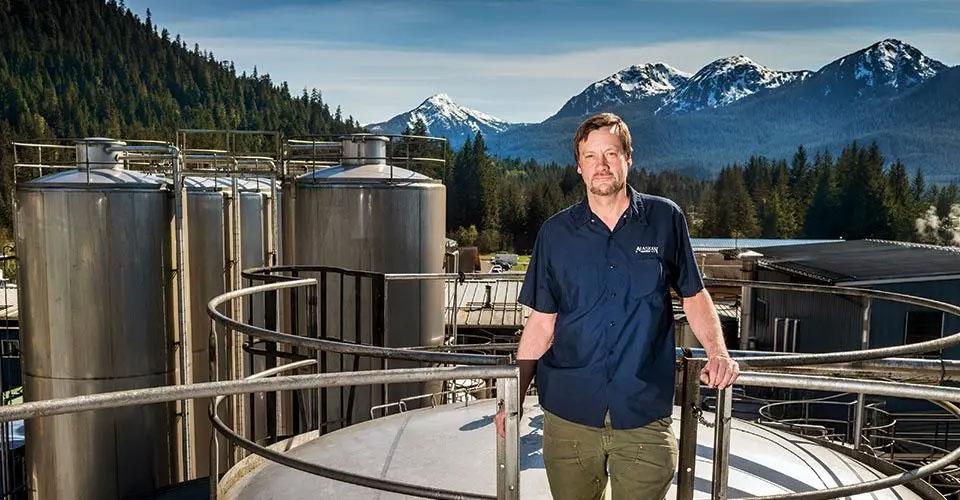 by Karen Shih '09 for Terp magazine
For a brief, gleaming moment after graduation, Geoff Larson '80 became part of Alaska's most storied tradition, using his chemical engineering prowess to harvest leftover gold from old mine waste.
But today, it's liquid gold—the kind prospectors would have drowned their sorrows in after a disappointing day of panning—that's given him a real taste of success. His Alaskan Brewing Company is celebrating 35 years of producing craft beer infused with local ingredients like Sitka spruce tips and alder-smoked malts.
"We embrace the history of Alaska," says Larson. The company's popular amber ale, for example, is based on a 1907 recipe from the defunct Douglas City Brewing Company, which Larson's wife and co-founder Marcy discovered in a newspaper article. "When you're challenged by your environment, the environment inspires you to think outside the box."
He credits the University of Maryland for giving him the chance to take classes in a variety of fields, from economics to studio art to materials science, while he studied engineering. The problem-solving skills he learned became critical after he followed then-girlfriend Marcy to Alaska a few years after graduation.
When the gold mining company he worked for folded in 1984, he and Marcy struck out on their own to start a craft brewery. They faced the usual challenges of starting a business—18-hour days, recruiting investors, building a facility—as well as distinctive problems due to their remote location in Juneau, which is accessible only by boat or plane. For example, brewers need carbon dioxide to keep their beers fresh in production and packaging. But canisters are expensive to buy and transport, and the gas is usually created by burning fossil fuels.
"We became the first craft brewery in the country to capture all of our carbon dioxide during fermentation," to use in the canning process, says Larson, describing its environmentally friendly solution.
Another issue was spent grain, which is left over after brewing. In most of the country, farmers readily take it to feed cattle or fertilize soil. Juneau, however, is in a fjord on a coastal mountain range, far from major agriculture. Larson and his team developed a way to transform the spent grain into fuel, replacing 60% of the fossil fuels for their boiler. They've since received four patents for the technology.
Alaskan Brewing now produces 100,000 barrels of beer a year—making it the country's 31st-largest craft brewery, according to the Brewers Association—and sends it as far as Hawaii, Texas and Ohio. Larson believes the company's success in a crowded field, one that has exploded from fewer than 100 breweries in 1987 to about 9,000 today, is due to its commitment to making a uniquely Alaskan product.
"The tastes of consumers are changing, and there's a lot more products available," he says. "They're looking for a real story behind the goods they consume."
Published February 23, 2023