One Size Does Not Fit All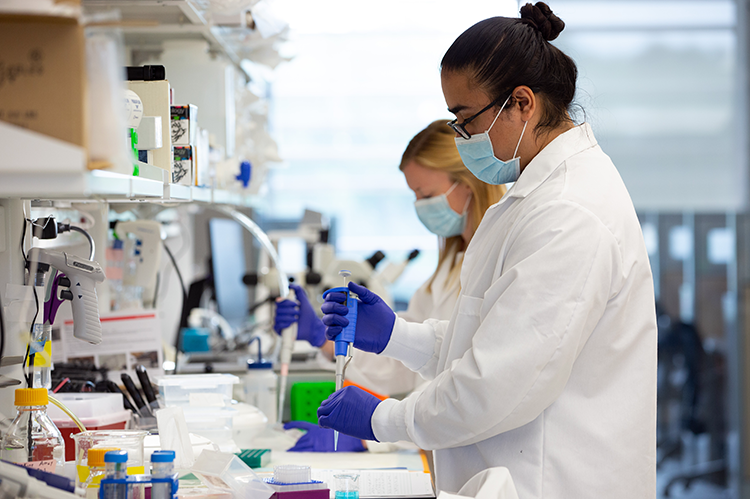 Raised by a single mother who worked hard to get by, Gurneet Sangha's childhood involved a scarcity of resources. But once he reached college, he began to deeply consider the impacts that a lack of good food and exercise must have on disadvantaged and marginalized people who struggle, without respite, for their entire lives.
Those considerations drove Sangha's later academic interests: developing advanced techniques for imaging and modeling cardiovascular systems, and in vitro study of the influence of exercise on cardiovascular health. Yet after finishing his graduate studies in 2019, he had difficulty finding a postdoctoral appointment where he could combine the two disciplines into a single thread of research.
Then Sangha saw a map that crystallized his future.
The illustration in question depicted incidences of cardiovascular disease in one region of Maryland. Though clear clusters of disease punctuated the map, it wasn't obvious why they were there—until the presenter pointed out what was missing: access to quality nutrition. Disease rates were concentrated in low-income "food deserts."
The speaker: Alisa Morss Clyne, associate professor and associate chair for diversity, equity, and inclusion in the University of Maryland's Fischell Department of Bioengineering. The map was a launch point to discuss disparities in vascular health research; in particular, how a lack of socioeconomic, sex, and ethnic diversity in research studies confounds efforts to create therapies for the people who need them most. Sangha knew then that Maryland was the next stop in his academic arc.
Intentionally seeking to diversify the subjects used in research—from cells and serums to data from patient populations—is a pillar of Clyne's vascular kinetics lab. She and her students study how the mechanical properties of blood vessels, particularly at the microscopic and molecular levels, change in response to elevated glucose, stress hormones, and other compounds present in blood. By understanding the ways in which biology influences how blood vessels form, function, and fail, Clyne's lab seeks to contribute to potential new therapies and approaches for treating disease.
Within her lab's purview are diabetes, Alzheimer's, cancer, and now—with the addition of Sangha to her roster as a postdoctoral research associate—the effects of exercise at the molecular and microvascular level.
Clyne cites a pulmonary hypertension study she worked on at Drexel University prior to coming to UMD just over a year ago. The research team used equal proportions of human cells from men and women for the experiments. Upon analyzing the early results, the data were all over the place, Clyne says—until they separated women from men.
"The cells were different because they're from adults of different sexes, impacted by the long-term effects of sex hormones," Clyne explains. "Cells carry a lot of stuff with them from the person they are from. It made me think about where the cells I use in my research come from, and how that impacts the results I get."
"There's a lot we do in healthcare that's not 'fair.' Engineering has the power to decrease some of those disparities."
Many cells used in research, she adds, come from umbilical tissue. These naïve cells have never been subjected to the stresses and protective factors that actually affect adult humans over their lifetimes. And serum, the liquid fraction of human blood that can be used to treat cells and observe its effects, also carries a complex cocktail of compounds. These biomarkers reflect the accumulated stresses of daily life, as well as the effects of sex, ethnic background, and socioeconomic status.
"Serum taken from two different women, one from the suburbs and one from an inner city neighborhood, can indicate the incredibly different stress levels—and lives—of those two women," Clyne says. "Many people look at this from an epidemiological status; if you have these stress markers in your blood, then you're more likely to develop cardiovascular disease. But it's not clear what it is that causes this stuff to be in your blood in the first place, and how it works in the body."
A key challenge is that it's difficult to acquire cells and serums from diverse sources. While it's easy and cost-effective to get human umbilical endothelial cells from an all-white population, Clyne says a request for a more racially diverse sample runs into the tens of thousands of dollars for a single vial of cells. They just aren't available.
"People who are rich and white live a long time. And in this country, people who are not live for significantly less time," Clyne says. "That's not acceptable in a modern industrialized nation. Everyone should have the same life expectancy, regardless of the color of your skin or where you live."
Callie Weber is a second-year graduate student and Clark Doctoral Fellow in Clyne's lab who studies Alzheimer's disease. She is interested in the differences in vasculature between men and women, and how they may contribute to the disease. Women are almost twice as likely to be diagnosed with Alzheimer's as men, but very little research focuses on that disparity, Weber says. She'll be bathing induced stem cells in serums from different populations to look at what compounds present in blood might affect the development of Alzheimer's, with a goal of teasing out any differences between men and women.
"Most people are looking at these diseases in mouse or rat models, and that doesn't recapitulate what happens in humans," explains Weber. "Yet research is moving more towards personalized medicine." By revealing disease differences that result from sex or other demographic categories, science and drugmakers alike can move towards targeted therapeutics for those specific populations.
Sangha is working on studies related to how changes in blood flow can impact disease development, and the differences between resistance and aerobic training. He hopes one outcome of his research is to break down barriers to wellness. An ounce of prevention, as the adage goes, is worth a pound of cure, especially in communities for whom healthcare is inaccessible due to its cost.
"Scientifically based recommendations for diet and exercise for the public suffer from a lot of misinterpretation," Clyne says. "Do you do 10,000 steps, or 150 minutes of vigorous exercise per week? It's not the same for everybody. We'd like to create measurements that would guide what a certain person can do, and know if it's working."
UMD presents a favorable canvas for her lab to conduct this research, Clyne notes, because of its schools of medicine and public health, department of kinesiology, robust collaborations with other institutions including Morgan State University, and proximity to the National Institutes of Health.
"We'd like to make therapies that reduce disparities rather than increasing them," Clyne explains. "Engineers and everyone else are guilty of creating things for the majority and not the minority. There's a lot we do in healthcare that's not 'fair.' Engineering has the power to decrease some of those disparities."
Published September 22, 2020