MAGE Alumna Among Early Career Distinguished Alumni Society Class of 2022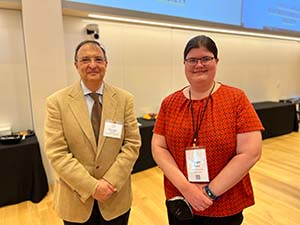 Dean Samuel Graham, Jr. and the A. James Clark School of Engineering today inaugurated the Early Career Distinguished Alumni Society Class of 2022. Among the 25 alumni who were recognized for being at the forefront of their respective fields and demonstrating excellence in leadership, innovation, entrepreneurship and/or service was Maryland Applied Graduate Engineering alumna, Megan Bock '10.
"The Early Career Distinguished Alumni Society recognizes and connects Clark School alumni under 40 years old who are leading the next generation of innovators, entrepreneurs and change-agents," says Dr. Samuel Graham, Jr.
Assistant Dean of Continuing Education Dr. George Syrmos congratulated Bock on her achievements at a welcome breakfast in the Stanley R. Zupnik '59 Forum in Clark Hall before a full day of events leading up to the induction ceremony which takes place tonight in the Jeong H. Kim Engineering Building.
From the announcement of her induction on the Early Career Distinguished Alumni webpage:
Megan R. Bock is the payload systems engineer for NASA's On-orbit Servicing, Assembly, and Manufacturing 1 (OSAM-1) Servicing Payload. In this role, she serves as technical lead for a first-of-its-kind payload that will demonstrate autonomous satellite rendezvous and robotic servicing capabilities.

Bock began her career at NASA's Goddard Space Flight Center in 2006 as a contractor in the Carriers Development Office. There, she supported several International Space Station and Space Shuttle payloads, notably working as a mechanical systems engineer for the final Hubble Space Telescope servicing mission, STS-125. From 2009-2010, Bock continued her growth in mechanical analysis, supporting programs with subsystem and instrument level analyses. In 2011, she joined the ICESat-2/Advanced Topographic Laser Altimeter System (ATLAS) team as an instrument systems engineer responsible for developing and evaluating algorithms for the instrument's primary observations. Following ATLAS's 2018 launch, Bock joined the ICESat-2 project science office and continued to maintain these algorithms while acting as the primary liaison to the ground processing team and implementing them for the National Snow and Ice Data Center. Bock became a civil servant and joined OSAM-1 in 2019.

A member of Goddard's Instrument & Payload Systems Branch, Bock received her B.Sc. and M.Eng. in aerospace engineering from the University of Maryland. She is an instructor for GSFC's Product Development Lead training program, educating Goddard's next generation of PDLs in systems architecture and requirements development. She is also the recipient of several NASA group achievements and individual peer awards.
Learn more about the other inductees and their achievements at eng.umd.edu/alumni/society/2022.
Published September 23, 2022