Introducing Maryland Engineering's New Chief Development Officer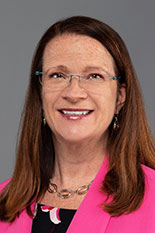 A. James Clark School of Engineering Dean Samuel Graham, Jr. sent the following email to the Clark School community today:
Clark School Faculty and Staff,
I am pleased to announce that Jennifer L. Schwartz will become the next Chief Development Officer & Assistant Dean for the A. James Clark School of Engineering on September 12, 2022.
Jennifer has worked at the University of Maryland since 2010, first as Senior Director of Corporate & Foundation Relations at the Clark School (2010-2018) and then as Assistant Dean for Development at the School of Public Health (2018-present).
Jennifer raised more than $150M towards the Clark School's $500M Fearless Ideas campaign goal and led the School of Public Health to attain 205% of its campaign goal. She participated in closing the $219.5M Building Together transformational gift in 2017 from the A. James & Alice B. Clark Foundation. At the School of Public Health, annual fundraising results grew 454% from FY18 to FY22.
Jennifer has shown that she can successfully bring together various stakeholders — university leadership, central development, faculty and staff — to coordinate successful prospect and donor strategies within units and across the university. She has fostered robust, strategic volunteer engagement by the School of Public Health Dean's Council and Alumni Network Board.
An experienced people builder, Jennifer is adept at selecting, mentoring and coaching development and alumni relations staff members and overseeing high-performing teams that value diversity, equity and inclusion. She is a leader within the development enterprise at UMD, and actively advances the existing culture of excellence, collaboration, accountability and professionalism.
Jennifer has served on the board of directors for the Network of Academic Corporate Relations Officers and as an expert panel reviewer for the Kellogg Foundation's Racial Equity 2030 $90M grant competition. She has a bachelor's degree from Harvard University and an MBA from George Mason University.
Jennifer's desire to serve in this new role is driven by the University of Maryland's strong commitment to excellence and impact for the public good as laid out in the Fearlessly Forward strategic plan. She looks forward to continuing to grow a sustainable pipeline of philanthropic support to increase the Clark School's and the university's reputation and impact.
Please join me in welcoming Jennifer Schwartz to the Clark School of Engineering.
Sincerely,
Samuel Graham, Jr. (he/him/his)
Dean and Nariman Farvardin Professor
Published August 26, 2022