Incentive Awards Program, Engineering Lab Building Named for Mote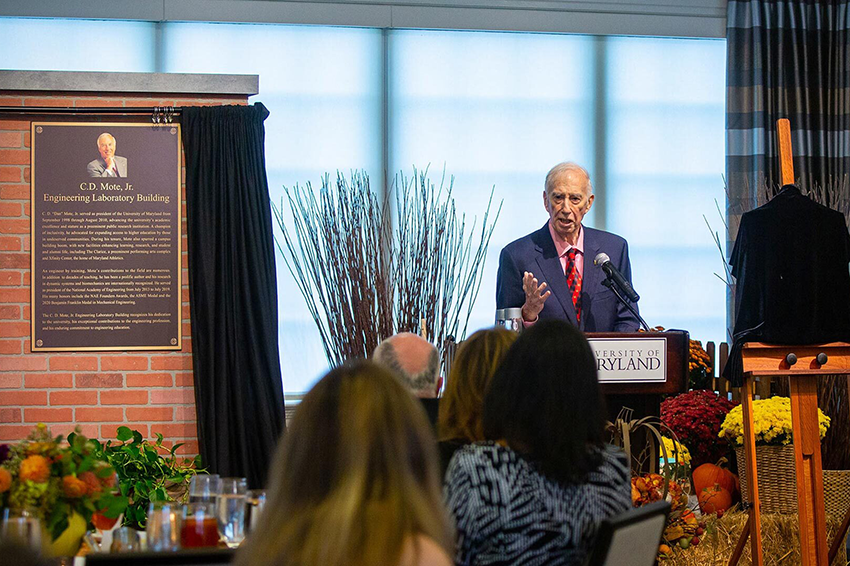 When C.D. "Dan" Mote, Jr. arrived at the University of Maryland in 1998 to begin his tenure as president, he made what he calls a stunning observation: Of the 4,000 freshmen in that year's incoming class, only 40 came from public high schools in Baltimore.
"How could you have one of the great universities not only in the country, but in the world … where the public high schools from the state's most important city only provide 1% of students (in the freshman class that fall) at the flagship university?" said Mote, now Regents Professor and Glenn L. Martin Institute Professor of Engineering at Maryland. "I decided we had to fix this problem."
That determination resulted in the Incentive Awards Program (IAP), which provides financial support, mentorship, and a close-knit community to promising students from Baltimore City and Prince George's and Montgomery county schools facing challenging circumstances. Now, all Terps joining the successful program will be reminded of its history and legacy.
To honor its founder, IAP will now be known as the C.D. Mote, Jr. Incentive Awards Program, and the Engineering Laboratory Building will also be named for the accomplished engineering innovator, UMD President Darryll J. Pines announced at a celebratory University House gathering on Sunday. Their history goes back four decades, when Mote, then a professor at the University of California, Berkeley, met Pines at his high school and later became his undergraduate adviser at Berkeley.
"We are proud to honor my mentor and friend, former UMD President Dr. Dan Mote, through the namings of the C.D. Mote, Jr. Engineering Laboratory and C.D. Mote, Jr. Incentive Awards Program," said Pines. "Your service to our university can never be fully measured, but it will always be gratefully remembered."
During his 12 years as university president, Mote often cited his "expectation of greatness" as he transformed the campus. He oversaw a building boom, including the Clarice Smith Performing Arts Center, the Jeong H. Kim Engineering Building, the Bioscience Research Building, and Knight Hall; created Maryland Day, which now attracts up to 100,000 attendees each year; led UMD's first billion-dollar fundraising campaign, Great Expectations; founded the research park now known as the Discovery District; and began the presidential tradition of giving out turtle lapel pins, with the first designed by his wife, Patsy.
Among his long list of accomplishments, IAP sparks a special sense of pride for Mote—especially after its initial challenges securing funding and support. The program, founded in 2000, was inspired by a model that he implemented at Berkeley, where he previously worked for 31 years, rising to vice chancellor, and noticed a similar problem of attracting students from San Francisco. In addition to providing four years of financial assistance, IAP provides academic coaching and mentorship with a "community within a community" vibe. The program prioritizes community service and strives to help Terps develop critical thinking and leadership skills.
The program now has nearly 200 alums, with 77 who have completed or are pursuing graduate degrees. Mote fondly remembers students from early cohorts who are now working as company executives or earning doctorates in subjects like bioengineering, psychology, and education.
"The fact that people want to recognize this program means a lot to me, and of course having my name associated with it is very special," Mote said. "I'm confident that the program will continue to grow to more parts of the state … and could become be one of the nation's outstanding educational programs."
After launching with a focus on nine Baltimore City high schools, the program has expanded to include Prince George's County and recently Montgomery County with support from multimillion-dollar gifts.
"It's so fitting to honor him in this way," said Jacqueline W. Lee, founding director of IAP. "Dr. Mote positioned and framed the Incentive Awards Program so that it could have the success and the profile it enjoys today. He has defined the personal and professional lives of so many people and set us all on a course to have exceptional experiences and live purposeful lives. All of us in IAP—the staff, the students and the alumni—owe him a debt of gratitude."
Mote similarly spearheaded innovation in his engineering career. He's widely recognized for his research in dynamic systems and biomechanics, with his work revolutionizing snow ski design among his most famous. Mote secured patents in the U.S., Norway, Finland, and Sweden as well as authored or co-authored more than 300 publications.
The Engineering Laboratory Building—home of hubs such as the Advanced Propulsion Research Laboratory and Center for Advanced Life Cycle Engineering—is a most fitting place for that work, Mote said. Now, that facility's name will be a nod to its inspiring inventiveness.
This story originally appeared in Maryland Today.
Published October 13, 2021