Engineering at Maryland magazine introduces new leader, new look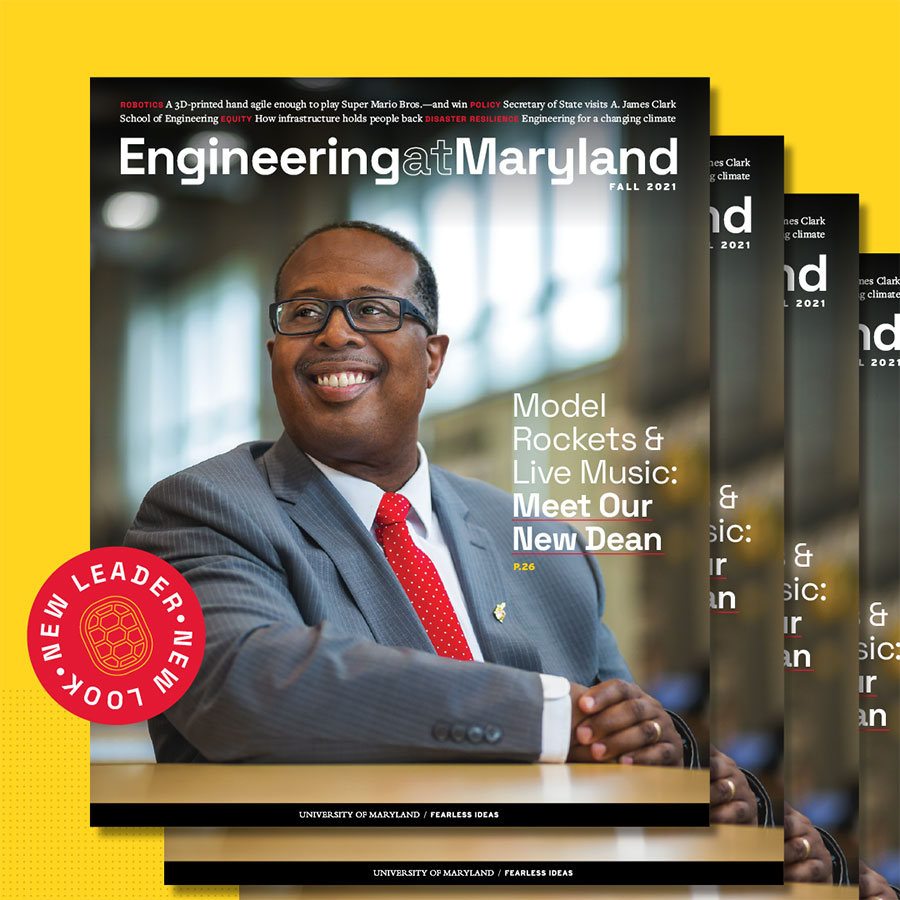 The Fall 2021 issue of Engineering at Maryland magazine hits mailboxes soon. The issue introduces Maryland Engineering's new dean, rolls out a new magazine look and feel, and tackles timely topics from bias in the built environment to disaster resilience in the face of a changing climate.
Fall 2021 ushered in a series of changes for Maryland Engineering and Engineering at Maryland magazine:
New leadership. On October 1, Samuel Graham, Jr. became dean of the Clark School. Graham—most recently chair of mechanical engineering at Georgia Tech—is a proud mechanical engineer, first-generation college student, and musician who says he's excited for both his new job and the future: "I look forward to contributing to the Clark School's legacy of excellence and leading the next generation of diverse Terrapin engineers poised to improve our world through innovations in technology," Graham said.
New look. In October, we also launched the Clark School's refreshed brand, implemented with bold design and "The World Goes to Maryland" tagline. Our revamped brand positions Maryland Engineering as synonymous with solutions to society's Grand Challenges: a national leader in engineering education, research, and innovation that shapes the world in which we live. We rooted our approach in months of research, interviews, and study of other engineering schools and consumer brands. Engineering at Maryland magazine serves as a key element of the new brand introduction, conveying its spirit and adopting its look and feel.
Through the lens of the refreshed brand, the fall issue includes a Q&A with Maryland Engineering's new dean, Dr. Graham, and takes a thought leadership approach to the social implications of engineering practice. One lead story, "Equitable Infrastructure," explores the accountability of engineering in creating socially responsible infrastructure. Another, "Disaster Pending," hails just some of the innovative work led by Maryland engineers in the interdisciplinary spaces of climate change and disaster resilience.
Additional highlights include:
BIG PICTURE: One of the first features you might notice about the IDEA Factory
ROBOTICS: A 3D-printed hand agile enough to play Super Mario Bros.—and win
POLICY: Secretary of State visits A. James Clark School of Engineering
Send letters to the editor:
Melissa L. Andreychek
Engineering at Maryland magazine
1143 A.V. Williams Building
College Park, MD 20742
email: mandreyc@umd.edu
Engineering at Maryland magazine is published twice a year for alumni and friends of the A. James Clark School of Engineering at the University of Maryland. Digital copies are published on the Maryland Engineering website for sustainability purposes and to encourage online readership.
Published November 23, 2021