Engineering at Maryland magazine highlights the Clark School's commitment to excellence in a COVID world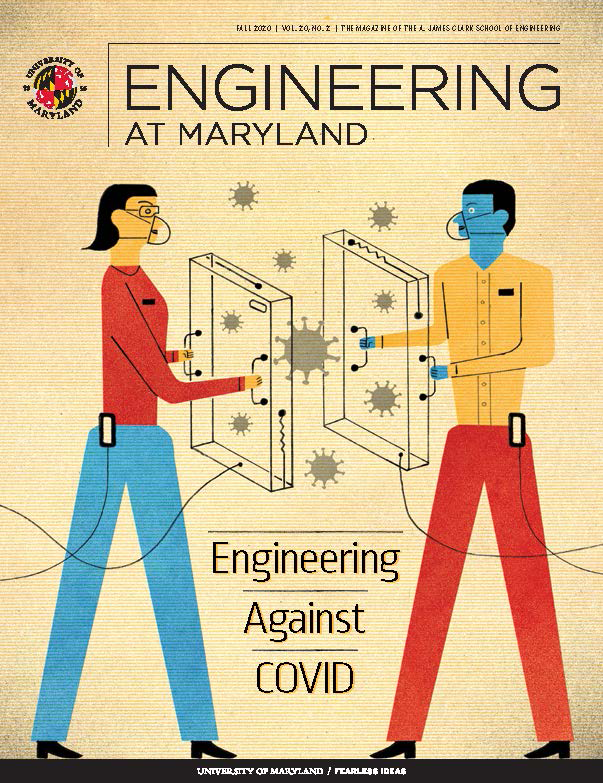 To tackle civilization's biggest threat …
… think like an engineer.
Repurposing lab spaces. Mobilizing resources. Leveraging research to battle the pandemic.
The "heroic and extraordinary" efforts of Maryland engineers to deliver on the Clark School's commitment to excellence in a COVID world are featured in the Fall 2020 issue of Engineering at Maryland magazine, published this week.
The lead story, "Engineering Against COVID," shows how the coronavirus pandemic stoked the imagination, ingenuity, resilience, and resolve that define what it means to be a Clark School engineer. Their efforts are told through work from the Maryland Transportation Institute, Terrapin Works, the Office of Global Engineering Leadership, the Women in Engineering Program, and many more.
The Fall 2020 cover and feature story are illustrated by Baltimore-based artist David Plunkert. His work includes the U.S. Postal Service STEM Education Commemorative Forever Stamps, along with art director Antonio Alcalá; the American Society for Engineering Education (ASEE)'s 125th anniversary poster; and the 200th anniversary illustrated edition of Mary Shelley's Frankenstein.
Engineering at Maryland is published twice a year for alumni and friends of the A. James Clark School of Engineering at the University of Maryland. Digital copies are published on the Clark School's website for sustainability purposes and to encourage online readership.
Published November 3, 2020