CRR Shines at PSA 2023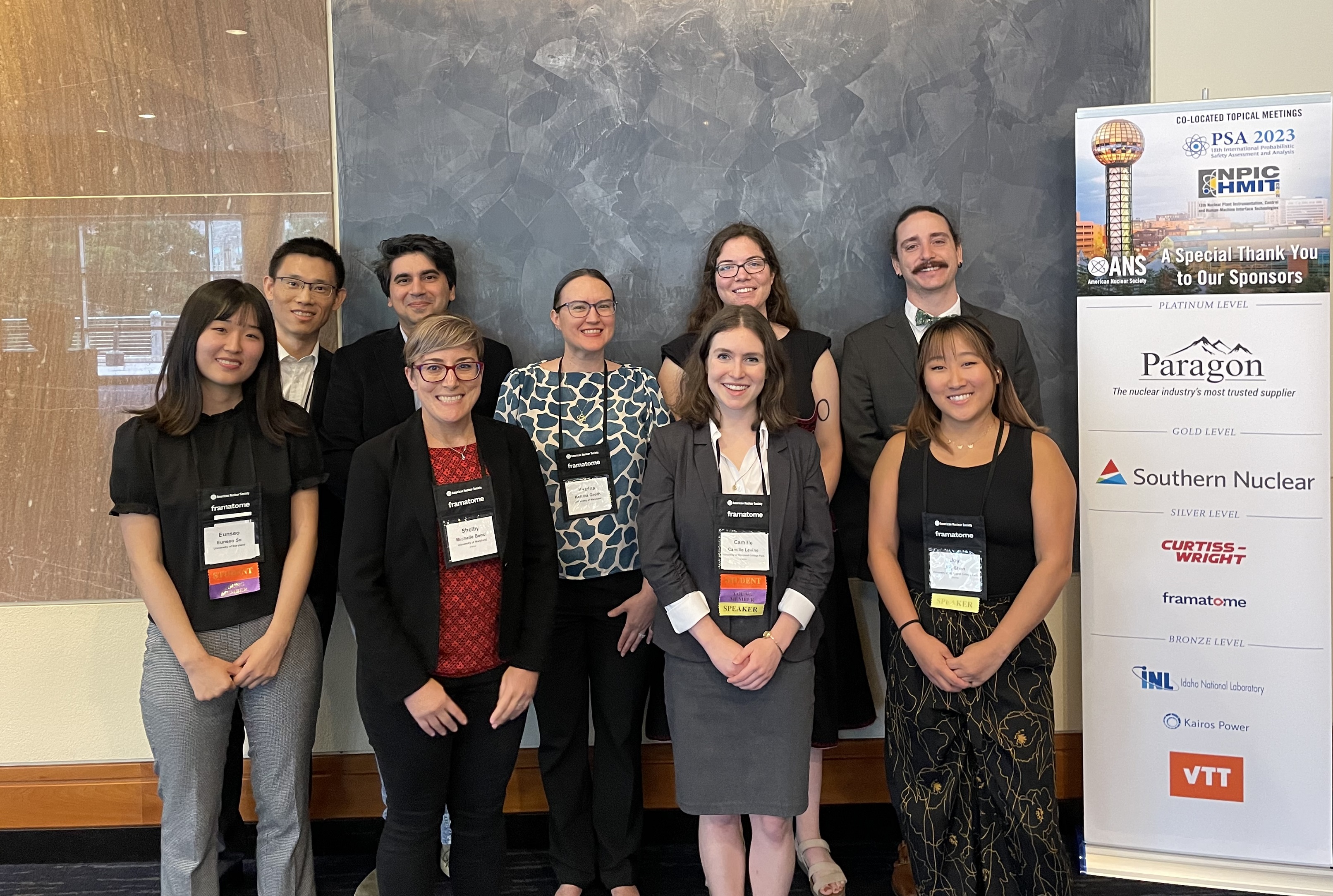 UMD CRR Shines at PSA 2023: Celebrating Excellence in Probabilistic Safety Assessment
The University of Maryland's Center for Risk and Reliability (CRR) had a strong and impressive presence at the PSA 2023 Conference and NPIC&HMIT 2023 in Knoxville, TN. With a delegation of four esteemed professors, their lab teams, and many UMD alumni in attendance, the conference was a success.
The Probabilistic Safety Assessment (PSA) conference, a biennial topical event organized by the American Nuclear Society (ANS) since 1978, has become a premier global platform for sharing advancements and insights in probabilistic risk and safety domains. The conference covers a wide array of critical subjects, including methodology, applications, policy, research, and risk-informed regulation, with relevance to nuclear reactor facilities, nonreactor installations, processing, decontamination & decommissioning, and storage.
CRR's participation in PSA 2023 was marked by exceptional contributions from professors and students. Notably, Dr. Mohammad Modarres and three other distinguished professors, along with their lab teams, presented a dozen impactful presentations during the conference. Their talks not only showcased the depth of knowledge and expertise within the Center but also fostered valuable connections among faculty, current students, and esteemed alumni hailing from around the world.
One of the highlights of the event was Camille Levine's outstanding achievement. She won the award for the best "Lightning Round Competition Early-Stage Graduate Research" category, standing out with her exemplary work and groundbreaking research.
In addition, CRR's Dr. Katrina Groth received well-deserved recognition by delivering an invited talk at the plenary session titled "PSA's Future: People, Technology, and Impact." Dr. Groth's insights enriched the conference, offering valuable perspectives on the future direction of probabilistic safety assessment and its potential impact on the broader scientific community.
UMD's strong presence at PSA 2023 signifies the university's commitment to pushing the boundaries of knowledge in risk and reliability assessment. We continue to foster collaboration, knowledge exchange, and innovation within the field by actively engaging in events of this magnitude.
As we reflect on our success at PSA 2023, we look forward to making further contributions to the development and application of probabilistic risk and safety methodologies and promoting safer practices across various industries. Click here for more conference photos.
For more information about the topics covered at the conference, including its agenda and participants, click here
Published July 25, 2023