College Park-born Quantum Firm IonQ Goes Public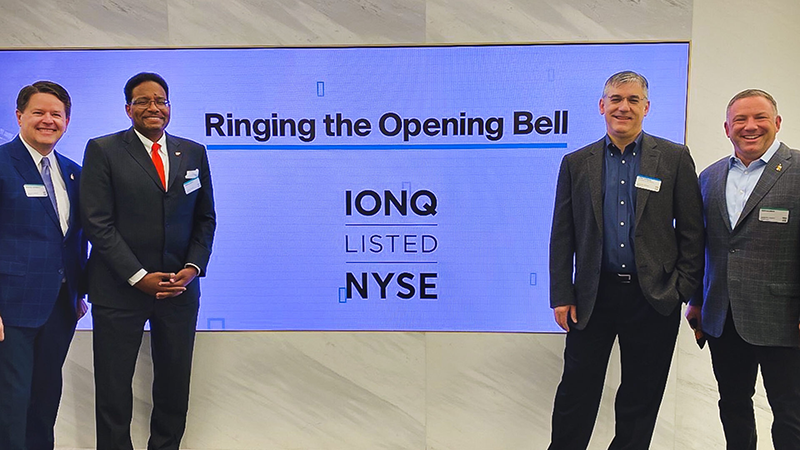 IonQ, a quantum computing company headquartered in College Park's Discovery District and spun off from research at the University of Maryland, went public today on the New York Stock Exchange.
Company officials rang the ceremonial opening bell on Wall Street, making IonQ the first publicly traded company focused solely on quantum computer hardware and software. University officials, including President Darryll J. Pines, were in attendance.
"It was really a validation of years of work between the University of Maryland and IonQ," said Ken Ulman, the university's chief strategy officer for economic development. "From a big-picture standpoint, it sends a message to the world that we are a great place for innovative companies to grow and thrive."
IonQ is a leading competitor in the effort to bring practical quantum computers to market that could leverage certain aspects of quantum physics to solve problems beyond the scope of present-day machines. The company received gross proceeds of $636 million from the transaction, and its business combination with dMY Technology Group, Inc. III will trade under the ticker symbols "IONQ" and "IONQ.WS," respectively.
"Over the past six years, we have taken this critical technology out of the lab and have developed it into a commercial product," said Peter Chapman, IonQ president and CEO. "We are humbled by the interest in our public listing and are confident in our ability to deliver against our business plan."
Earlier this month, IonQ announced a $20 million partnership with UMD to create the National Quantum Lab at Maryland, or Q-Lab, which will be the nation's first quantum user facility and give UMD-affiliated students, faculty, researchers, staff and partners across the country access to the company's commercial-grade computers, as well as the opportunity to collaborate with IonQ's scientists and engineers.
Op/ed: 'An Industry That Will Change the World'
Quantum science and technology just made a major stride in a century-long journey from the notebooks and experiments of scientific luminaries like Einstein to its position today—poised to deliver once-impossible solutions to a range of pressing societal problems, University of Maryland President Darryll J. Pines writes in a new op/ed in The Baltimore Sun.
IonQ, a company founded in part on UMD technology and based in its Discovery District, became the first purely quantum-focused company on the New York Stock exchange, cementing UMD's place at the center of what Pines calls the DMV: "the Capital of Quantum"—a potential ground zero for the next world-changing technological upheaval of the sort that began in Silicon Valley in the 1970s.
This story originally appeared in Maryland Today.
Published October 1, 2021