Answering the Call Amid COVID-19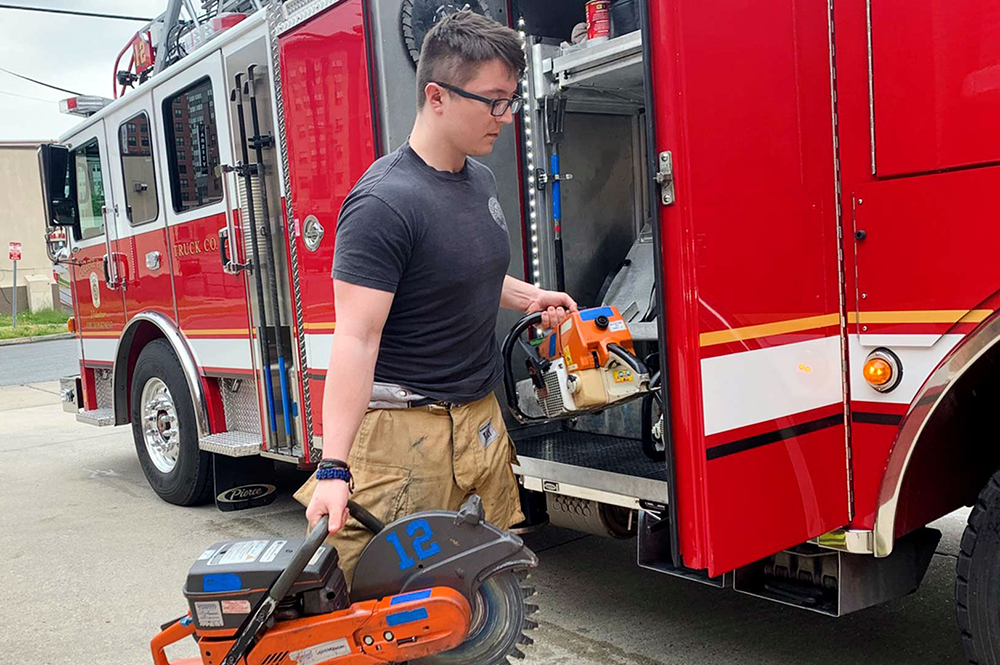 Maddie Walstrum '22 starts her day like a lot of University of Maryland students do in the midst of the COVID-19 pandemic: The environmental science and policy major logs onto an online lecture, digs into some homework, or, on a slow day, watches an episode of "The Tiger King" on Netflix.
But at any time, the alarm could start screaming. Then she pulls on nearly 50 pounds of protective gear and hops on an ambulance or fire truck to help answer 911 calls.
Walstrum is one of 14 Terps who are continuing to serve at the College Park Volunteer Fire Department station amid the coronavirus outbreak. Despite the uncertain times and UMD campus's closure, the student volunteers stayed to support the station's mission and help protect College Park.
"For me, (the virus) didn't really change my decision," Walstrum said. "It's still my responsibility. I want to be here."
While career firefighters work at the station from 7 a.m.–3 p.m. each day, up to 24 student volunteers are on call after that. Although some are now living off-site and standing by as backup—which helps with physical distancing—most, like Walstrum, live year-round in dorm-like rooms above the firehouse and consider that space home.
"It's the address on our driver's licenses," said Steven Scharaldi '22, a fire protection engineering major who has been volunteering at the station for two years.
Spending so much time at the firehouse, which responds to around 4,500 incidents per year, has taught the student volunteers to get their homework done as soon as possible, Walstrum said, so that if a call does come in, they don't have to worry about finishing that assignment that's due at midnight. Those time management skills have come in handy as the COVID-19 outbreak has added tasks to the to-do list.
Besides adjusting to UMD's shift to online classes, volunteers are helping the station adhere to new protocols, including ensuring protective equipment is stocked, ramping up decontamination efforts by frequently wiping down and sanitizing the station and apparatuses, and taking their temperatures at least twice a day to ensure no one is exhibiting coronavirus symptoms. To prevent potential spread while on calls addressing house fires, medical emergencies, and more, they cautiously approach each one as though the caller is infected.
"That's definitely more important when we're assessing patients," Scharaldi said. "It's always good to assume the people you're interacting with have (the virus)."
Walstrum said the protocols have helped reduce worry among the volunteers' families, who understand that the fire department needs the help in this unprecedented situation. In the meantime, the crew acts as its own family, eating group dinners and playing games like Quiplash when they're not out on calls.
"Even though everything is scary, I feel like this is where I need to be," Walstrum said. "It's now my home."
This story originally appeared on Maryland Today.
Published April 10, 2020