UMD Alumni Jones, Laroia Elected to National Academy of Engineering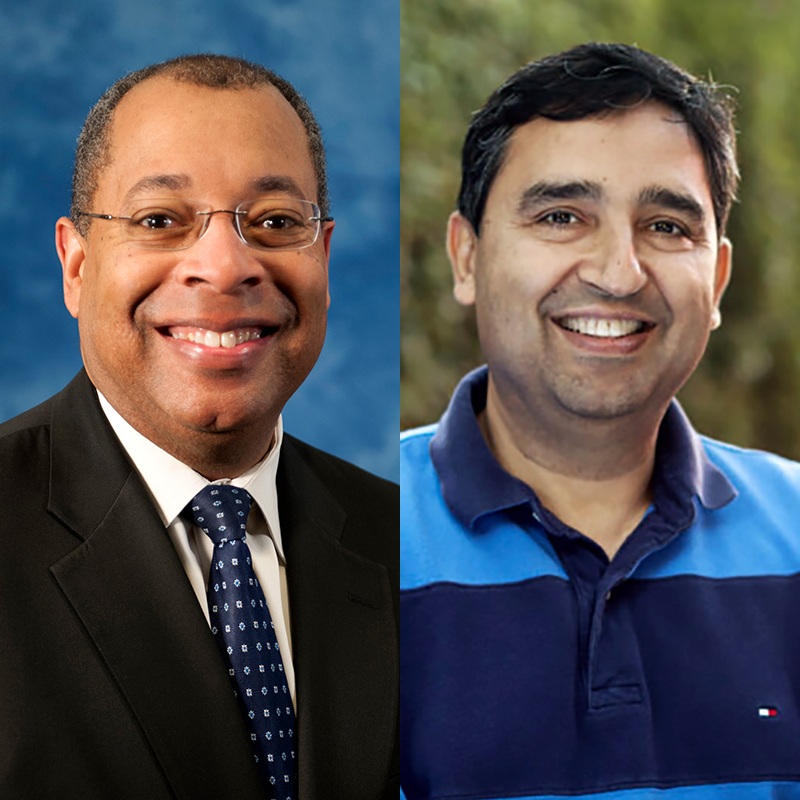 Two alumni of the University of Maryland's A. James Clark School of Engineering—Christopher T. Jones (Ph.D. '97) and Rajiv Laroia (M.S. '89, Ph.D. '92)—have been elected to the 2021 Class of the National Academy of Engineering (NAE): Jones "for leadership of defense logistics, sustainment, training, and system readiness in support of U.S. national security," and Laroia "for contributions to adaptive multiuser orthogonal frequency division multiplexing for cellular voice and data systems."
"We charge our graduates with improving people's lives with engineering, and we're immensely proud of our alumni who deliver on that charge. Chris and Rajiv are two such engineering leaders," interim Clark School Dean Robert Briber said. "We're thrilled to celebrate their achievement: outstanding contributions that set a standard in engineering excellence and contribute to a better society."
Election to NAE is considered one of the highest professional recognitions in an engineer's career. Academy members are peer-selected for pioneering new technologies, advancing engineering education, outstanding business and government leadership, and contributions to engineering research and practice.
Meet UMD's NAE Class of 2021
Christopher T. Jones (Ph.D. '97)
A military veteran with a longstanding career in engineering technology, Christopher T. Jones has built a reputation as a leader in revolutionary flight technologies and integrated logistics and systems for the public and private sectors. He came to Maryland in the early 1990s as one of a handful of Black Ph.D. candidates in the United States at the time.
After finishing his Ph.D. at Maryland, Jones led work on innovative rotorcraft technology, including the Commanche helicopter program, for Sikorsky Aircraft Corporation. He joined Northrop Grumman in 2004 as director for the Airborne Early Warning Program and later served as corporate vice president and president of the company's Technology Services Division. There he supported a diverse customer base throughout the U.S. and in 16 countries—including the U.S. Departments of Defense, Energy, Homeland Security, State, and Interior; NASA; and the U.S. Postal Service—providing a range of operations and support integral to national and global security. He received the Black Engineer of the Year Award in 2016.
Prior to his private sector career, Jones was a Captain for the U.S. Air Force. As an active military officer, he served as a systems analyst on foreign ballistic missile and space systems at Wright-Patterson Air Force Base, Ohio, and served in Iraq as part of Operations Noble Eagle and Enduring Freedom. He continued with the Air Force National Guard until 2011. Today, Jones is the chief of operations at The Leadership Compass, an international executive coaching company.
At UMD Jones was advised by Professor Roberto Celi, an expert in helicopter dynamics and control and optimization methods. Jones continues to be an active supporter of both school activities and students, contributing his time and resources to further opportunities and programs, especially for underrepresented students of color. He was inducted into the Department of Aerospace Engineering's Academy of Distinguished Alumni in 2016 and serves on the Clark School's Board of Visitors.
Rajiv Laroia (M.S. '89, Ph.D. '92)
A technology trailblazer that helped revolutionize global communications, Rajiv Laroia is an authority in wireless communication networks and data transmission, information theory, optics, and digital imaging technology. Laroia began his career at AT&T Bell Labs and its successor, Lucent Technologies Bell Labs, where he was head of Bell Labs' Digital Communications Research Department in the Wireless Research Center. As founder of Flarion Technologies (which was acquired by Qualcomm in 2006 for $800 million), Laroia and his team were the first to develop OFDMA based all-IP mobile broadband technology, which became the foundation for the LTE 4G wireless technology used by billions of phones globally today.
"The entire world was against us," Laroia said in a 2019 interview about the process of developing the technology. "But it turned out that we were so much better than the standards that [the operators] could not, in the end, ignore us. They weren't going to settle for inferior technology, so they helped us push our technology into the standards."
Laroia is now the cofounder and CTO of Light, a perception technology company that essentially allows cameras to see, detect, measure, and understand the world around them with astonishing accuracy. The company's most recent platform, called Clarity, enables vehicles to see and interpret any 3D object up to 1,000 meters away, a boon for autonomous vehicle technology.
Laroia received his Ph.D. and master's degrees in electrical engineering, working with advisor and former Clark School Dean and UMD Provost Nariman Farvardin. He has 400 issued patents and more than 400 pending. Laroia has won numerous industry awards, including the IEEE Industrial Innovation Award in 2013 and the IEEE Alexander Graham Bell Medal in 2020. He was inducted to the Clark School's Innovation Hall of Fame in 2006. He served on the Institute for Systems Research Strategic Advisory Council from 2006–2009 and the Department of Electrical and Computer Engineering (ECE) Advisory Board from 2017–2019. In 2013, he won the University of Maryland ECE Distinguished Alumni Award.
The NAE has more than 2,000 national and international members. Jones and Laroia join more than two dozen UMD faculty and alumni to achieve the distinction of NAE membership.
For the complete list of new academy members, view the NAE press release.
Published February 9, 2021