Bensi, Groth Selected for Nuclear Facility Risk Assessment Faculty Development Program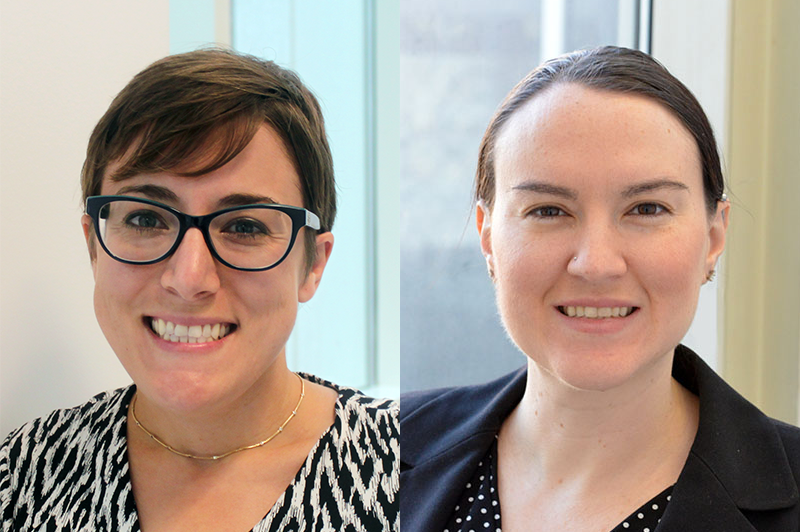 A new faculty development program within the University of Maryland's A. James Clark School of Engineering aims to address some of the major challenges underscored by nuclear safety and highlighted by incidents such as the 2011 Fukushima Daiichi accident.
The new inter-department Faculty Development Program for Cross-Disciplinary Research in Probabilistic Risk Assessment for Nuclear Facilities—led by principal investigators Gregory Baecher, Glenn L. Martin Institute Professor, and Mohammad Modarres, Nicole Y. Kim Eminent Professor—will support two junior faculty members in the Departments of Civil and Environmental and Mechanical Engineering, Assistant Professors Michelle (Shelby) Bensi and Katrina Groth, in developing solutions to advance probabilistic risk assessments (PRA) and risk-informed decision making for nuclear facilities.
Bensi's research and experience centers on the application of PRA concepts and tools to problems involving engineered systems. In particular, her research activities and publications address assessments of natural and man-made hazards and infrastructure systems, as well as developing support systems, applications, and methodologies. She previously served as an engineer at the Nuclear Regulatory Commission, where she worked to resolve challenging problems in reactor safety arising from the Fukushima reactor accidents. She was responsible for technical reviews, performed research on probabilistic hazard assessment, led agency regulatory development, and led development of policy papers. Bensi serves as the project team lead for American Society of Mechanical Engineers/American Nuclear Society consensus standard for PRA of external flooding at nuclear power plants.
Groth's research focuses on modeling and simulation methods for risk and reliability assessment for complex engineering systems, including nuclear power plants, hydrogen fuel cell vehicle infrastructure, and aviation and defense systems. Her research uses Bayesian methods, machine learning, and causal models to fuse sparse data, big data, and qualitative information from multiple sources into models that support decisions and prediction under deep uncertainty. Before joining UMD as faculty, she spent seven years as a researcher in the risk and reliability analysis department at Sandia National Laboratories in Albuquerque, New Mexico, where she led multiple projects in Human Reliability Analysis, Hydrogen Risk Assessment (HyRAM), and PRA. Groth is also a trustee for the National Museum of Nuclear Science and History in Albuquerque.
Program funds will support members in development of their research on topics involving the interface between civil and mechanical engineering in PRA applications. Topics may include:
external hazard PRA;
assessment of the reliability and fragility of structures, systems, and components; and
development of computational methods and tools.
Published April 24, 2019